WHERE IS THE SYMPOSIUM BEING HOLD?
Rennes 2 University
Place du Recteur Le Moal. Rennes.
Bldg L, Amphitheater Victor Basch (L3)
HOW TO GET THERE?
1/By foot if you are coming from Residence Villa Camilla. From the residence take Baston Berger street all the way down to the University at the other end of the street (700 meters).
2/ By Tube from downtown Rennes:
Take the metro in direction of : KENNEDY
Stop at Metro station : "VILLEJEAN-UNIVERSITY"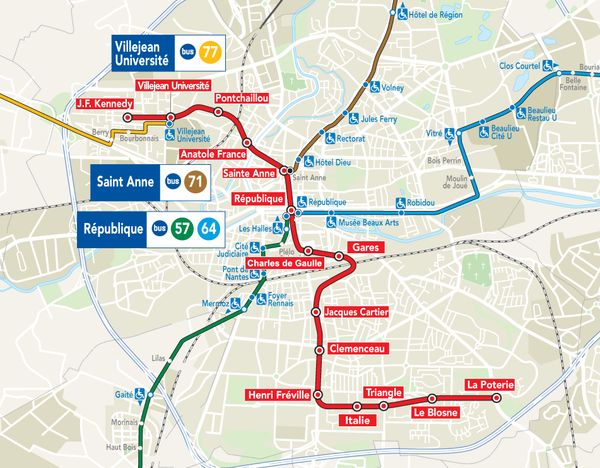 You are getting out in front the University Main Building called "Le tambour".
When at the Tambour, you are just 70 meters away. Go downstairs toward the campus, and you'll find easily our building "L" ( see picture).
Signs should guide you to the Building L ( a large modern buiding with a white pointed roof). See this map: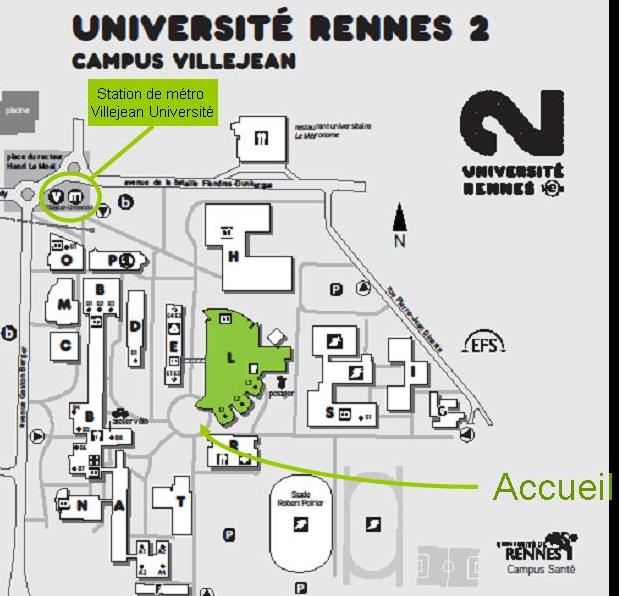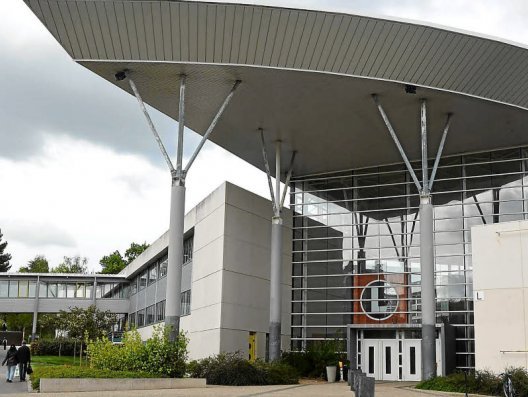 You are arrived!
The badging will take place in the lobby where volunteers will greet you. This hall will be ours for the duration of the Symposium. Our amphitheater (L3) is just there. Our small team of volunteers is there to help, guide and support during the symposium. Ask us if you have any question.
In case of need, please contact Guy-Christopher Coppel: +33 607502778
Welcome to Rennes 2 University,
Degemer mat e Breizh! (welcome to Brittany!)
WHAT TO WEAR?
Weather in Brittany is generally mild, in winter as in summer. We are under an oceanic type of weather. The ocean and the Channel are of great influence since we are a long peninsula with very active sea on 3 sides and one the world's most dramatic tidal regime. No point in Brittany is more than 80 km away from the sea at most.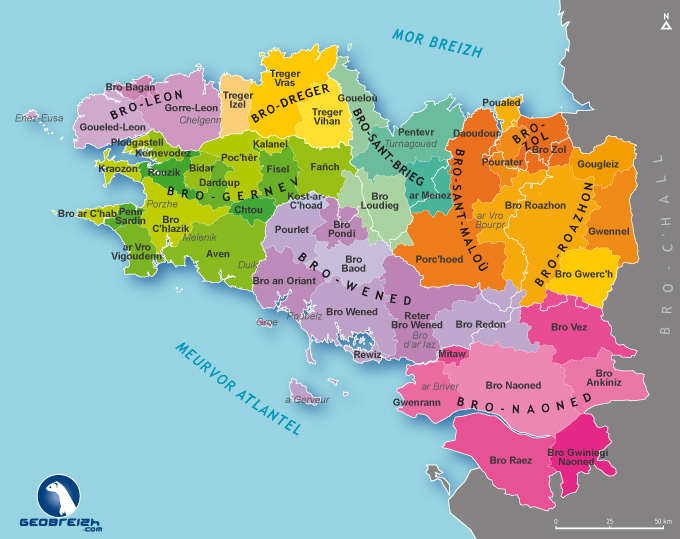 This means that even in summer, you might want to have a light rain jacket handy. Dreezle episodes are not uncommon. At night and early in the morning, you might enjoy having the comfort of a sweater, especially if the sky is clear.
The forecast for our week is pretty good, with reasonable temperatures around constant 18-20 celcius during the day, so far no heavy rain is on the map, to the contrary, a good gentle sun seems to be willing to greet you!
Especially on the excursion day, we strongly advise you to get a cap, a hat for the sun, as gentle as it can seems, it might burn with cruelty. In Brittany we have high levels of UV. Good UV protection cream is always a good idea as well as sun glasses.
We'll keep you of course updated daily on the weather, especially for the excursion day.
You'll hear people say (especially french people) that it is "always raining in Brittany"... ( yet Brittany is a "green country"). Science shows they are dead wrong you'll be the witness of how prejudiced they are!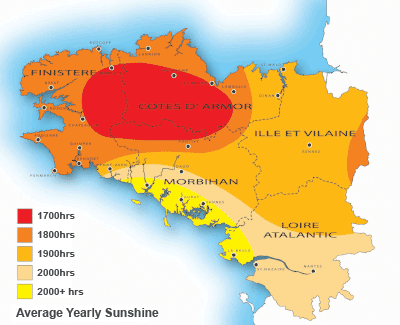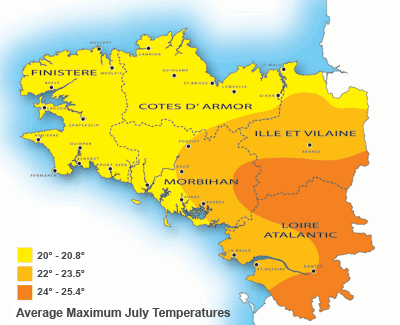 Brittany is really not the worst place to be on the planet!